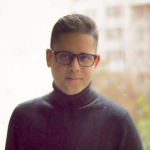 :About Us
Fanavaran Sepidjamegan is a knowledge based company funded by a group of elites in 2015.  The company is honored by the presence of a group of scientific experts and academic specialists, highly skilled industry and applying latest methods and application.
We are an international supplier of medical equipment and medical supplies for physician-based offices, hospitals, medical spas and skin care centers. We offer a wide range of equipment for all your medical needs. We have 128 registered patent and focuses on designing and manufacturing of more than 80 devices in the field of medical equipment.
The company has partnered with international institutes and corporations, including the Cell Surgical Network®, the Dutch Stem Cell Center and Medikan international Inc.
Moeid Dehghanpour Farashah, CEO, is one of the Iranian Elites which started his business in age of 18. His business is now employ more than 200 people.
The company is located in Tehran, Iran and has two offices in Shenzhen (China) and Amsterdam (Netherlands).
:Honors
Register more than 128 national and international patents
Commercialization of more than 80 products (35 in the field of medical equipment)
Manufacture of the MACS system and ending German monopoly on its production
Manufacture of the ReCell therapy system and ending UK monopoly on its production
Multiple certificate of appreciation awarded by the Iran's Vice Presidency for Science and Technology
Multiple certificate of appreciation awarded by the Iranian council for stem cell sciences and technologies
Certificate of appreciation from Tehran university of medical sciences
Certificate of appreciation from Iran university of medical sciences
Certificate of appreciation from Shahid Beheshti university of medical sciences
Honorary Member of the Board in Iran university of medical sciences
Certificate of appreciation from Skin and Stem Cell Research Center, Tehran University of Medical Sciences
Certificate of appreciation from Skin Research Center, Shahid Beheshti University of Medical Sciences
First place in Kharazmi robotic competition
Presidential award in Invention and Promotion Festival
First place in Iran open 2009
Third place in Iran open 2010
First place in Iran open 2011
First place in National Elite Foundation Festival
Second Place of Shahid Chamran National Festival
Top Designer of the Year – National Elite Foundation Festival
:Products
Carboxy-therapy unit
Ozone sauna
Ozone disinfection machine
Ozone health spa
Ozone-therapy unit
Plasma sterilizer
PRP kit
ED-DBD Plasma
CPM ( Continuous passive motion ) system
Peristaltic pump
Tumescent infusion pump
Lipo Modeling
Graftitum ( automated hair transplantation system )
HGP ( Hair graft preservative solution )
Stem Sera ( mesenchymal stem cell conditioned medium )
Ultra-filtration system for biological solution
Biofiller maker
Cryojet
MACS ( Magnetic-activated cell sorting ) system
ReCell therapy
Negative ion generator
3D body Scanner
3D Bio-printer
Subcijector
Microneedling and Micropigmentation system
Skin vibrator
Ampoule opener
Skin type detector
Cell Desk ( equipped laboratory hood )
Nano-Fat kit
Surgical Camera
Smoke Evacuator
Derma-Intra-Planing
Beauty Booster
Clinic attendant system
:Cell Therapy Services
Skin Rejuvenation and Scars Management
Vitiligo Treatment
Wound / Diabetic Foot Ulcers / Burn Scars Treatments
Osteoarthritis (OA) Treatment (Grade 2/3)
Treatment of Crohn's Disease
Treatment of Anal fistula
Rheumatoid Arthritis Treatment
Cerebral palsy (CP) Treatment
Non‐Obstructive Azoospermia (NOA) Treatment
In vitro fertilization (IVF)
:C-GMP Grade products
Sperm Washing Medium
SpermPrep Medium
SpermGrad (40%)
SpermGrad (80%)
Insemination Kit
Poly Vinyl Pyrrolidone (PVP)
SpermMotile Medium / SpermGrad (100%)
Oocyte Flushing Medium
Oocyte Washing Medium (with/whitout HEPES)
Oocyte Washing Medium with Gentamicin and HEPES
Hyaluronidase in HEPES
IVF Basic medium
IVF Cult Medium
IVF Cult Medium with Gentamicin
IVF Cult Medium with Gentamicin and Phenol red
Mineral Oil
Human Tubal Fluid (with HEPES)
Human Tubal Fluid (without HEPES)
GMP-grade Hams' F10 Medium (with HEPES)
GMP-grade Hams' F10 Medium (without HEPES)
GMP-grade PBS
GMP-grade Ultra-Pure Water (UPW)